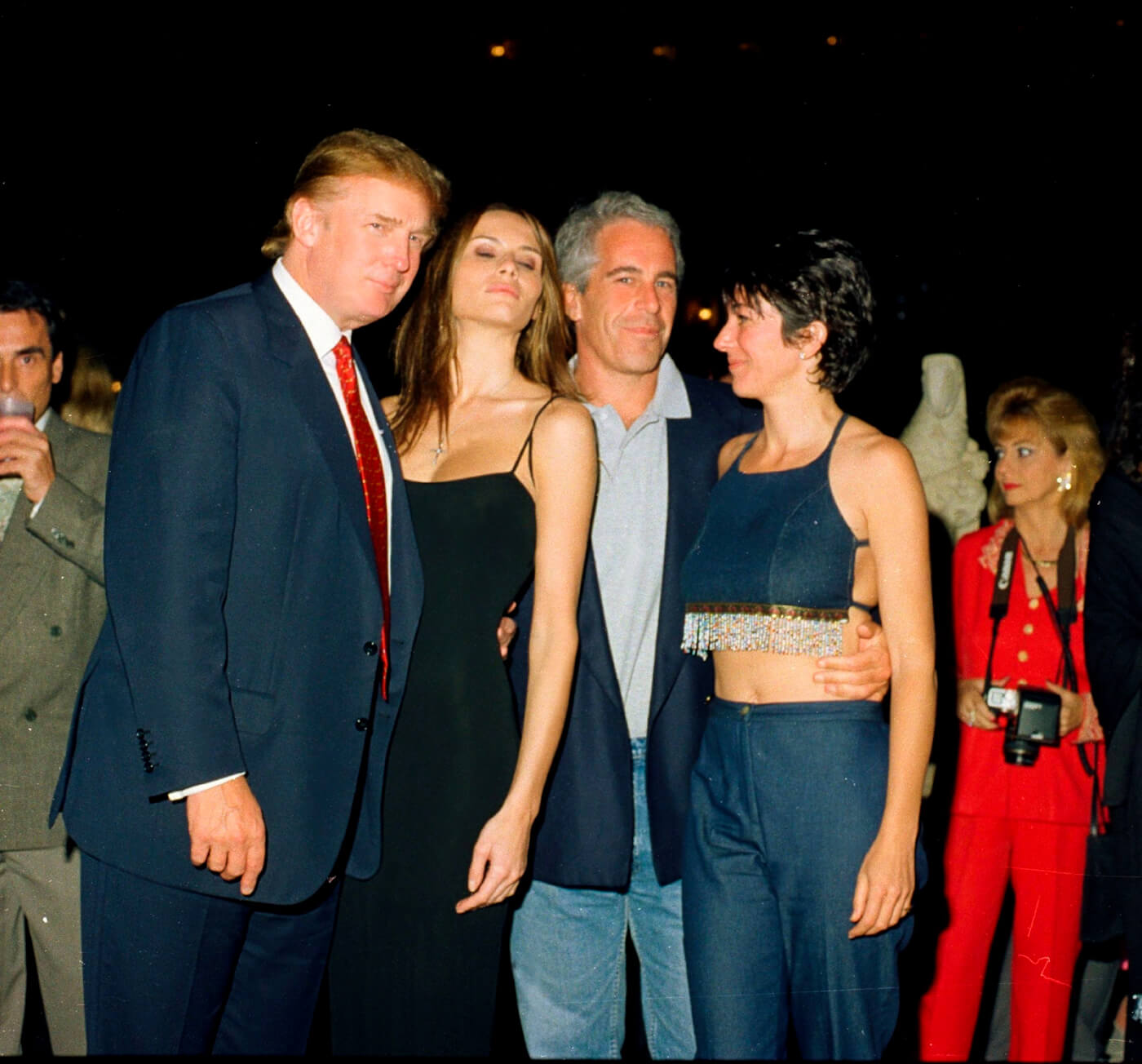 Jeffrey Epstein's Death Should Not Close the Case on His Sex and Blackmail Operation
The following reflect excerpts from an award-winning series authored by Whitney Webb, a MintPress News Journalist based in Chile. We believe that the death [murder – a theory] of Jeffrey Epstein should be a catalyst for allowing all of those involved in his sex-crime syndicate to be exonerated. We are therefore going to continue to publish.
Whitney Webb's research is impeccable. There are accompanying podcasts to her articles as well.
Webb has uncovered scrubbed articles and headlines to investigate and piece together a highly organized crime syndicate involving multiple countries, numerous high ranking officials, members of our government,  Ghislaine Maxwell who, to date, has not been prosecuted, the girls lured in for sex and various spy organizations. Her fundamental question, at least in the following article is, why did he go from being characterized as a "property mogul" in the early years to being described as a "hedge fund manager" in the later years, and in rewriting the history of the formerly scrubbed documents.
We note that Ghislaine Maxwell has never been prosecuted for her involvement though should have been and all of the girls he traded as sex slaves. Since the untimely [murder] death of Jeffrey Epstein, she has not been seen. 
The victims in the Jeffrey Epstein Empire – too big to fail – were not only the traded sexual slaves, mostly children not old enough to come close to consenting to the purchases and sales of their bodies; but also those who were targeted for blackmail and whose foibles were used to manipulate them.  Epstein's death helped to afford freedom to many of the people involved in his horrific empire, but his death did not solve the underlying problem – that these types of organized criminal endeavors have outlived Epstein. 
The various excerpts are only part of the story. We encourage you to read the entire article which we will be posting in parts. 
TOO BIG TO FAIL
Several now-censored reports from the 1990s and early 2000s reveal that Prince Andrew's involvement with the minors exploited by Jeffrey Epstein is greater than previously believed.

While the Jeffrey Epstein scandal has largely faded from media coverage in the United States, it has continued to attract attention abroad, particularly in the United Kingdom in connection with Epstein's long-standing association with Prince Andrew, the Duke of York and the Queen's son.

The Epstein-Prince Andrew relationship has long been a fascination of the U.K. press, with numerous articles dating back to the early 2000s detailing the most outrageous aspects of their relationship. Prior to that, Epstein had also garnered attention from U.K. newspapers regarding his association with Ghislaine Maxwell, whose reputation in the U.K. is rather notorious, as was that of her father, Robert Maxwell.

Yet, since Epstein's arrest in July, many of these older articles on Epstein and Maxwell, as well as those focusing on the Epstein-Prince Andrew relationship, have disappeared from the archives of several prominent U.K. media outlets that reported on these relationships years ago.
……
New, disturbing details of Prince Andrew's early links to Epstein

Since Epstein was arrested the first time in 2006 and even more so after he was arrested again this past July, those named in press reports as his associates have made every effort to distance themselves from the accused pedophile and sex trafficker. For this reason, press reports that discuss Epstein long before there was any hint of the larger scandal are particularly important for understanding the true nature of Epstein's past associations with the rich and powerful.

In light of what is now known about Epstein's sexual blackmail operation and sex trafficking activities, several reports from the late 1990s and early 2000s contain details long since forgotten regarding Epstein's relationship with Prince Andrew.

One particularly censored article that appeared in London's Evening Standard in January 2001, for instance, gives several indications regarding the apparent entrapment of Prince Andrew as part of Epstein's sexual blackmail operation, which is now known to have been connected to intelligence — specifically Israeli military intelligence, according to recent revelations in the case.

The article, written by Evening Standard journalist Nigel Rosser, quotes a personal friend of both Ghislaine Maxwell and Epstein as saying the following about their friendship with Prince Andrew:

Another friend of Maxwell and Epstein made similar claims that appear in the same article:

The article further describes Epstein and Prince Andrew as having a "curious symbiotic relationship," adding that "wherever Ghislaine is seen with Prince Andrew, Epstein isn't far behind."

These quotes are particularly telling now that it is a matter of record that Epstein was seeking out rich and powerful individuals and entrapping them with minors for the purpose of blackmail. The fact that personal friends of Epstein and Maxwell at the time openly stated that their "manipulative" relationship with Prince Andrew was "very premeditated" and "probably being done for Epstein" strongly suggests that not only was the Prince entrapped, but that this type of entrapment activity was known to occur among those who were close to Epstein and Maxwell at the time.
…..
Ghislaine Maxwell's open secret

Media reports cite Prince Andrew and Ghislaine Maxwell as having developed a close relationship at least by February 2000, when Andrew had spent a week at Epstein's controversial New York penthouse at 9 East 71st Street. One report published in 2000 by London's Sunday Times claimed that the two were introduced by Andrew's ex-wife Sarah Ferguson, often referred to as "Fergie" in the press, and further claims that this introduction had taken place several years prior. Epstein is alleged to have first been introduced to Andrew via Maxwell in 1999.

Years after this introduction was made, Jeffrey Epstein would provide financial assistance to Ferguson at Prince Andrew's behest by paying Ferguson's former personal assistant £15,000, allegedly in order to allow for "a wider restructuring of Sarah's £5 million debts to take place," according to The Telegraph.

Oddly, by April of that year, Maxwell and Prince Andrew were spotted by their fellow diners at a posh New York restaurant holding hands, prompting both the Prince and Maxwell to claim that their relationship was merely "platonic." However, a separate report from 2007 in the Evening Standard refers to Maxwell as one of Prince Andrew's former girlfriends.

Within a year of their close relationship having become public, Andrew and Ghislaine were reported to have gone on eight different vacations together, of which Epstein accompanied them for five. Andrew also brought Maxwell and Epstein to celebrate the Queen's birthday in 2000 as his personal guests.

Several reports from this period also provide interesting insight into Maxwell's business activities and private life. One article from 2000, published in London's Sunday Times, states that "for all her high-profile appearances on Manhattan's A-List merry-go-round, she [Maxwell] is secretive to the point of paranoia and her business affairs are deeply mysterious." It goes on to say that Maxwell "has been building a business empire as opaque as father's" — referencing Robert Maxwell's business empire, which included multiple front companies for Israeli intelligence — and adds that "her office in Manhattan refuses to confirm even the nature or the name of her business."

On her relationship with Epstein, it states that "he's always kept her secrets, no one knows what their relationship is really about." An article from 2001 claims that Maxwell's Manhattan lifestyle, her New York residence and her vehicles were all purchased by Epstein and that she was employed as his "consultant" while also acting as his social organizer and interior designer.
……
Jeffrey Epstein, spy and property mogul?

One recurring theme in many of these older reports from the U.K. is their mention of Epstein's alleged ties to both U.S. and Israeli intelligence. For instance, Nigel Rosser's 2001 article contains the following passage:

Another article, published in 1992 in the U.K.'s Mail on Sunday, describes "rumors" that linked Epstein to the CIA and the Mossad and claimed that he had worked as "a corporate spy hired by big businesses to uncover money that had been embezzled." In addition, an article published in 2000 in London's Sunday Times also states of Epstein that "nobody knows whether he's a concert pianist, property developer, CIA agent, a math teacher or a member of Mossad."

Notably, these rumors of Epstein's links to intelligence have since been confirmed. The CIA-Mossad links to Epstein were detailed in a recent MintPress investigative series and several mainstream media reports have corroborated Epstein's time as a self-described "financial bounty hunter" who hunted down embezzled funds and also hid stolen money for powerful people and governments.

Another odd commonality among these now-scrubbed articles on Epstein from the 1990s and early 2000s is that the majority of them refer to Epstein not as a "financier" or "hedge fund manager," as has become common in more recent reports, but as a "New York property developer" and even as a "property mogul."

For instance, the 2001 Evening Standard article introduces Epstein as an "immensely powerful New York property developer and financier" with an "intensively secret business life" who "owns properties all over the country [the U.S.]." It also states that Epstein had made millions from "his business links with the likes of Bill Gates, Donald Trump and Ohio billionaire Leslie Wexner" during the 1990s and beyond.
We encourage you to read the articles in their entirety on Mini Press News. Click here.