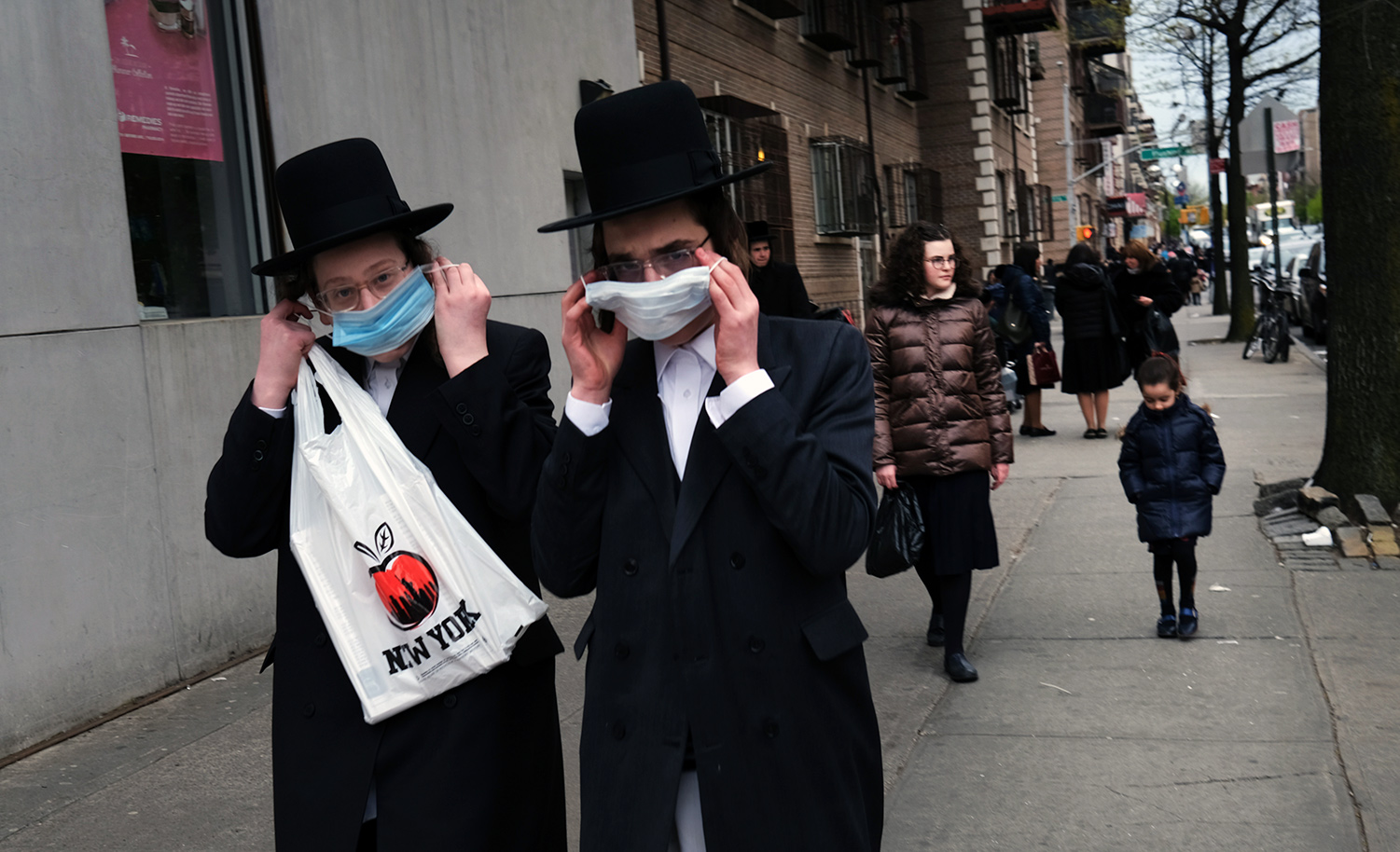 When the established rabbis go silent, others, including civic-minded philanthropists and charismatic outsiders with inflammatory social-media presences, fill the void.
The events this autumn in Brooklyn's ḥaredi (Orthodox) communities have been quite extraordinary, even revelatory. Contrary to popular hope, herd immunity to the coronavirus has not been achieved; the city government's response to the new second wave has been heavy-handed and possibly discriminatory; and in turn its legitimate attempts to enforce closures, social distancing, and mask wearing have been spurned rather than obeyed, thanks in part to the emergence of the since-arrested agitator Heshy Tischler as an outspoken voice for what he hopes constitutes the silent majority of the ḥaredi world. That this convict-turned-politician-turned-radio-host-turned-riot-inciter has found significant—though by no means total or even majority—support for his combative message reflects important and overlooked changes in the ḥaredi community in recent years, most notably the appearance of a serious crisis of authority in its ranks. This is most revelatory of all. As America at large is dealing with the hollowing out of institutions and the rise of politicians with inflammatory social-media presence, the ḥaredi world is too, even if the institutions are rabbinic and the social-media platform is more likely to be WhatsApp than Twitter.

Ḥaredi attitudes toward leadership have long differed from those of their surrounding communities, Jewish or gentile. Much of the community subscribes to a theology of Daas Torah ("knowledge of Torah"), whereby leading rabbis—those with the greatest degree of Torah knowledge and therefore the greatest degree of insight into the divine mind—are empowered to make all major communal decisions. We see this approach very much in effect today in Israel, where the two senior rabbinic authorities—Rabbi Gershon Edelstein and Rabbi Chaim Kanievsky—are engaged in political negotiations through the ḥaredi parties, in determining when to reopen yeshivas, and simultaneously in messaging to their communities on how to proceed. The two rabbis having often been at odds with each other in recent months notwithstanding, the fact remains that the prevailing ideology of Daas Torah dictates that these rabbis (and their courts and handlers) make policy on nearly every issue for their ḥaredi followers. In America, a similar rabbinic seat of authority rests with the Moetzes Gedolei HaTorah, the council of great rabbinic sages, which is affiliated with the Agudath Israel of America. (The organization lost its leader, Rabbi Yaakov Perlow, "the Novominsker rebbe," to COVID-19 in April, added several members in September, in a move towards relative youth, and lost Rabbi Dovid Feinstein, one of its elder statesmen, just two weeks ago.)

For as long as there have been rabbis, those possessing expertise in Torah knowledge have been consulted on issues large and small in their areas of training—Talmud and halakhah (Jewish law). Daas Torah goes well beyond that, into a presumption that their training in Torah qualifies leading rabbis as experts to be consulted on all worldly issues. There is some controversy as to when exactly the approach took hold. Lawrence Kaplan and Jacob Katz, two historians of Jewish law, have argued that this is an innovation of the modern period, possibly stemming from the 18th-century revolution of Ḥasidism. Others, like the rabbi Alfred Cohen, have argued for roots in the pre-modern period.

To continue reading in Mosaic, click here.