Dear Reader:
The hypocrisy is astounding.
By proportion all over the world, the single sickest group of people to population numbers is the Ultra-Orthodox Jewish Community. It is in the numbers and the math speaks for itself. These rates of illness (and death) are consistent in the US (with particular attention to New York and New Jersey), in Israel (Bnei Brak, Beit Shemsh, Beitar Ilit), in Belgium (Antwerp), in the Ukraine, in the Netherlands, in England (London) and the list goes on and on. And with the increased rates of illness and flouting of Covid-19 precautions, the increase in many of these places is resentment, hatred and ultimately anti-Jewish sentiment.
Everywhere there are large groups of organized religious people (whatever the religion), the numbers of Covid-19 infected people are higher. Most religious groups have scaled down. The ultra-Orthodox have not! Where they have stopped congregating, the numbers have reduced, sometimes dramatically. Sadly, the ultra-Orthodox Jews have, in large part, not stopped congregating. The rabbis are telling them that it's all in G-d's hands. But, if G-d sends us a lifeboat are we not supposed to acknowledge it is there for a reason?
As those same religious Jews profess to be pious and observant, (Talmidim Chachamim) to study Torah and worship One G-d as the Chosen People, they have set aside the single most important tenet of the Jewish laws, the notion of THE SANCTITY OF HUMAN LIFE. (Pikuach Nefesh) To that, they have said a glorious F-U.
And sadly, that is really quite godless. The optics are terrible for every Jew and the increase in anti-Semitic activity against all Jews, as a result of the actions of those most visible and least law abiding with respect to Covid-19, is wholly unsurprising and unremarkable.
We thank those of all religions who have stopped congregating in large numbers and recognize that there are many, but too few within Jewish orthodoxy, apparently, to influence the rest.
This blogsite, has IMPLORED religious leaders to stop calling your congregants together. This blogsite has BEGGED leaders in all countries to enforce the restrictions of Covid-19 within your countries' boundaries, even if it means setting aside religious freedoms for a time and now allowing travel. This blogsite has DEMANDED that the justice system accept the congregation of people who could potentially spread the Covid-19 virus, not only within their own communities but to those outside of the communities, to view these large events as bio-terrorism. By definition that is exactly what it is. The human body is the vessel and the very act of congregating and then travelling among others is a purposeful consequence of all that came before when people get sick, particularly those outside of the community.
Anyone who gets sick within Crown Heights, Borough Park, Lakewood, Antwerp, Amsterdam, Israel, and other cities in other countries should be permitted to hold those who got them sick accountable. Those who attend mass weddings of the religious dynastic elite travel from one country to another and then return to their homes (sometimes maskless on planes) should be held accountable to any person who gets sick that can be traced back. If that traces to contact with non religious people – NO MATTER THE RELIGION OR THE CONGREGATION – those who attended a mass gathering (including protests) and the responsible leaders within those communities should be held to account. This includes protests like the January 6, 2021 protest in DC where hundreds are getting sick. The leaders of that protest should similarly be held accountable for those getting sick who did not attend that protest.
During the AIDS epidemic in the 1980's and 1990's if an infected person transmitted AIDS to an unknowing partner, that person was held responsible. The same should be true now.
The following are excerpts from multiple papers, multiple locations, a litany of events wherein there were large gatherings and those in charge looked the other way while glorified religious leaders celebrated their POWER over a system that is ill equipped to enforce the laws. Religion, particularly in the United States should not be tolerated as a protected class over those non-religious when as it stands now, they are getting those not associated with them sicker. This is an example of an absolutely backwards system of lawlessness and it should not be allowed. It is not religious freedom, it is an ostentatious and wholly godless flouting of civil laws and it should punishable by any government.
READING:
At the immediate heart of the tensions is the refusal of some elements within the community to observe tough lockdown regulations that ban gatherings of more than five people inside and 10 outdoors.

More widely, police actions against them are seen by many Israelis as a long overdue effort to end the exceptionalism that has characterized the ultra-Orthodox for decades. It's allowed them to shirk military service, live on state benefits and often act as king makers in Israeli politics, critics and political rivals say.

Bnei Brak, a largely ultra-Orthodox city of more than 200,000, and the small Jerusalem neighborhood of Mea Shearim have seen the worst of the violence.

To read the article in its entirety click here.
Rabbi Chaim Kanievsky is the spiritual authority for hundreds of thousands of ultra-Orthodox Jews. But his pronouncements on the virus have made him a villain to many.
BNEI BRAK, Israel — Rabbi Chaim Kanievsky, 93, can't use a phone. He rarely leaves his house. His family says he has never successfully made a cup of tea. His closest aides think he doesn't know the name of Israel's prime minister. He studies the Torah for, give or take, 17 hours a day.

Yet despite his seeming detachment from worldly life, Rabbi Kanievsky has become one of the most consequential and controversial people in Israel today.

The spiritual leader of hundreds of thousands of ultra-Orthodox Jews, Rabbi Kanievsky has landed at the center of tensions over the coronavirus between the Israeli mainstream and its growing ultra-Orthodox minority.

Throughout the pandemic, the authorities have clashed with the ultra-Orthodox over their resistance to antivirus protocols, particularly their early refusal to close schools or limit crowds at religious events. Similar conflicts have played out in the New York area.

Rabbi Kanievsky, issuing pronouncements from a book-filled study in his cramped apartment in an ultra-Orthodox suburb of Tel Aviv, has often been at the fore of that resistance. Twice, during the first and second waves of the pandemic in Israel, he rejected state-imposed antivirus protocols and would not order his followers to close their yeshivas, independent religious schools where students gather in close quarters to study Jewish Scripture.

To continue reading the article in The New York Times, click here.
EXCERPTED
And both Eli and Naomi insisted that observing social distancing and lockdowns is far harder for large ultra-Orthodox families living in small apartments without television, Internet and computers than it is for the rest of the country.

All of these arguments undoubtedly have more than a kernel of truth to them, but the violence witnessed in the ultra-Orthodox sector over the last seven days has drowned out such claims and led to a severe swing in public opinion against the community.

Last Thursday in Bnei Brak, a mob of Vizhnitz-Merkaz Hassidim attacked plainclothes police officers looking for COVID-19 violations in Bnei Brak and smashed up their patrol vehicle.

Then, on Sunday, extremists took to the streets of Bnei Brak to protest police enforcement of Health Ministry regulations at a prominent yeshiva of the same extremist group in Ashdod, leading a police officer to fire a live warning shot in the air.

To read the article in its entirety in The Jerusalem Post click here.
Passenger describes trip as traumatic, saying people tried to stay away from 'coronavirus breeding ground' and would only drink in the bathroom due to fear of removing masks
Dozens of ultra-Orthodox passengers refused to wear face masks throughout a United Airlines flight from New York to Israel that landed last week, ignoring repeated requests by fellow passengers and staff, Hebrew-language media reported Sunday.

Traveler Tali Tenenbaum described the flight that landed on Friday as traumatic, saying passengers tried to stay away from the "coronavirus breeding ground" by going to the bathroom to drink, and couldn't eat or sleep.

In an interview with Radio 103FM, Tenenbaum said that she started to become concerned when she boarded the plane and noticed a large number of ultra-Orthodox passengers were not wearing masks, adding that the majority of the travelers on the flight were Haredi.

"The flight was three-quarters full, there were empty seats," Tenenbaum said in the interview cited by Maariv. "In all honesty, in my whole life I have never seen such behavior, such contempt… We sat for the whole flight in the coronavirus breeding ground because one does not know if they were tested [for the virus]."

https://twitter.com/radio103fm/status/1353225763567366144/photo/2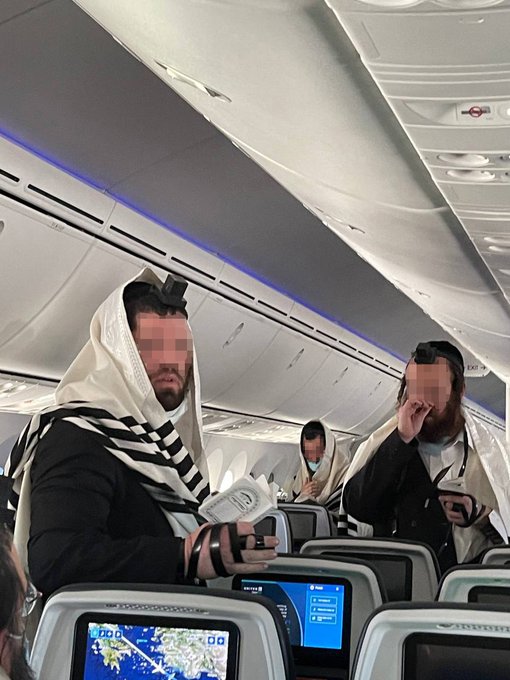 To continue reading in the Times of Israel, click here.
JERUSALEM — Prime Minister Benjamin Netanyahu on Sunday said Israel will be closing its international airport to nearly flights as the government races to bring a raging coronavirus outbreak under control.

The entry of highly contagious variants of the coronavirus, coupled with poor enforcement of safety rules in ultra-Orthodox communities, has contributed to one of the world's highest rates of infections. It also has threatened to undercut Israel's highly successful campaign to vaccinate its population against the virus.

Late Sunday, the Israeli Cabinet approved what Netanyahu said would be a tight closure on incoming and outgoing air traffic. The government said it would make exceptions for a small number of humanitarian cases, such as funerals and medical patients, and cargo flights.

"We are closing the skies hermetically, except for really rare exceptions, to prevent the entry of virus mutations, and also to ensure that we progress quickly with our vaccination campaign," Netanyahu said.

The order is to begin early Tuesday and remain in effect until Jan. 31. Netanyahu's office said the order still required parliamentary legislation to be finalized.

To continue reading click here.
Community insiders say weddings taking place each week and there is 'no respect for the guidelines'
England's lockdown rules are being flouted in ultra-Orthodox Jewish areas, with large weddings taking place each week and schools continuing to operate, according to community insiders and local residents.

Last week police discovered 150 guests celebrating a wedding at the Yesodey Hatorah girls' school in Stamford Hill, north London. The school denied knowledge of the event, which was condemned by the chief rabbi and the Union of Orthodox Hebrew Congregations.

Last week police discovered 150 guests celebrating a wedding at the Yesodey Hatorah girls' school in Stamford Hill, north London. The school denied knowledge of the event, which was condemned by the chief rabbi and the Union of Orthodox Hebrew Congregations.

To continue reading in The Guardian, click here.