Dear Reader:
The following article was not written by LM. We have republished it from another source http://www.patheos.com. It was written by Adam Lee. We did not take the liberty of correcting any typos or grammatical errors but left it as published. We emphasize, with all of our reposts, that the publication to our site should not be deemed to be an endorsement of our site by anyone else, nor an endorsement of their site by us. When there are views in common, we believe they are worth sharing.
LM
I've written before about the malign influence of New York's ultra-Orthodox Jewish sect. They want to shut out the modern world and recreate a medieval theocracy, and because their members vote in lockstep obedience to the commands of their rabbis, they wield outsized political power.
In the Brooklyn neighborhoods and other towns where they're the majority, they've committed one outrage after another: taking over school boards and strip-mining public schools, trying to impose gender apartheid on public spaces, prohibiting boys and especially girls from receiving an education, perpetuating barbaric religious rituals, brutally harassing and persecuting ex-members… and they do all this while shamelessly siphoning government assistance from the society they live in, demanding that others labor to feed, clothe and house them while they engage in lives of endless religious study.
But today's outrage may exceed all of those.
It comes from a post I saw on Reddit's popular Legal Advice forum. The poster, who's a gay man, wrote a plea for help with this title: I am being harassed by the orthodox Jewish "police" in my home. This has been going on for almost 2 years since I moved in. I am at my wits end, what can I do to stop it?
He begins:
I live in Brooklyn NY. I purchased a condo about 2 years ago in a building where a good chunk of the apartments are rented out by Orthodox families. i would say that 45% of the building is occupied by Orthodox families renting and the rest are condos owned + occupied by non orthodox people. I honestly did not care and did not think this would be a problem.
However, it seems the other families in his apartment building don't share his live-and-let-live attitude. They disagree with his "lifestyle", so they've been trying to harass and intimidate him into moving out:
The issue is that they have been using the Jewish police to harass me. To give you an idea of the shit I am dealing with I'll tell you what prompted this post. I chose to have a Superbowl viewing party today. About 30 minutes into the start of the party (when there were FIVE people here) I get a knock at my door and standing there are two fake police who try to tell me they got a 'noise complaint' and a complaint that we are using 'illicit substances' that i have to end my party. We were in my yard at this point literately just talking and smoking (cigs).
Yes, he said "fake police". We'll get to that.
But it gets even more shocking. The Hasidim's harassment has been escalating over time, until it's come to this point:
Since then, they have been standing outside of my building trying to prevent people I INVITED from entering and have been harassing my guess, treating to ticket them and demanding to search them.
When the poster was asked to clarify, he explained:
the main door opens by buzzer. ill buzz someone in and they will physically stand shoulder to shoulder in front of the doorway and tell my guest that they dont have permission to enter (after i just buzzed them in) and if they try to push past them will physically push them out and threaten to assault them if they keep trying to get in.

now whenever someone is coming over who doesnt have a key I always go down and open the door myself but i have to ask them 15 times to move to let me do so and sometimes have to call the nypd to come and make them move to let people in.
The group that's harassing this person is called the shomrim, Hebrew for "guards". They're a neighborhood watch that's active in ultra-Orthodox communities. They style themselves a civilian auxiliary whose only goal is to assist the police in protecting their neighborhoods from crime. The reality, according to this poster and to many others who've had experience with them, is that they operate as a vigilante mob – harassing outsiders, violently beating anyone they suspect of committing a crime, and treating ultra-Orthodox religious dogma as if it were law.
A New York Times article from 2016 has some examples, like this one:
Shortly before 5 a.m. on Dec. 1, 2013, a young black man named Taj Patterson was walking home through Hasidic Williamsburg after a night out with his friends. Mr. Patterson, a fashion student, was drunk. As he made his way up Flushing Avenue, a local shomrim group received a call about someone vandalizing cars. What was soon a throng of more than a dozen people stopped Mr. Patterson on a quiet stretch of Flushing in between Spencer and Walworth Streets. He resisted; there was a scuffle. Mr. Patterson soon lay on the ground with a crushed eye socket, a torn retina and permanent blindness in his right eye.
But while they're swift to unleash mob violence on outsiders, especially people of color, they take a see-no-evil, hear-no-evil attitude when it comes to crimes committed by one of their own:
"Who is really controlling the Borough Park police station?" asked Joe Levin, a Hasidic private investigator who has clashed with the shomrim. "It's not the N.Y.P.D."

A few years ago, Mr. Levin said he handled a divorce case where a husband was beating his wife. One day, he added, the woman was hurt so badly that an ambulance removed her from her home on a stretcher. The police and the shomrim were also at the scene, he said, but no one did a thing when the husband rushed out, flipped the stretcher and knocked her to the ground.

"I saw this with my own eyes — everybody did," Mr. Levin said.
The worst part is that, because of the Hasidim's political pull, the shomrim have virtual impunity. The Legal Advice poster says that he's tried many times to get the real police to intervene and stop this brazen harassment of him and his guests. Even with video evidence, they refuse to act:
I have tried everything i can think of and dont know what else to do. I have tried calling the NYPD every time they show up. This has not worked. I have complained to my condo association. No help. I have contacted my elected officials, filed complaints with the city AND state, contacted the fair housing justice center to file a discrimination complaint, and NOTHING has worked. I keep being told that what they are doing is not illegal and that they have permission to impersonate (my word) the police and attempt to enforce (their version) of the law.
He's not kidding about the shomrim impersonating the real police, either. If you search, you can find pictures of shomrim patrol cars that look exactly like NYPD vehicles. Here's one: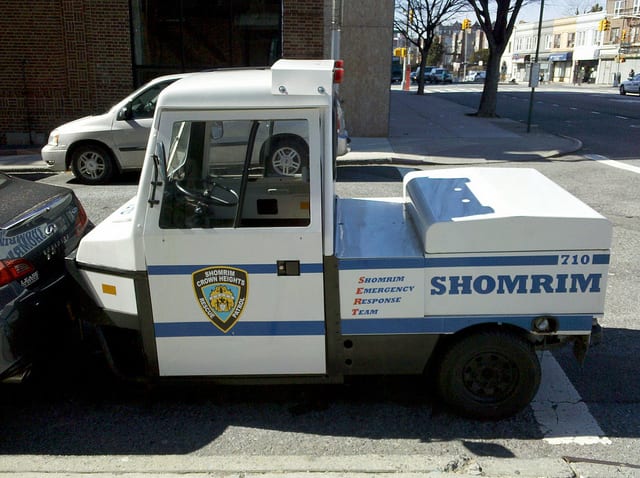 Here's another picture. They mimic the real NYPD in every detail, from the color scheme and font down to the badge emblem and the "Courtesy, Professionalism, Respect" motto. If you saw one of these vehicles show up and didn't know exactly what they were, it would be very easy to mistake them for real police, and that's a confusion the shomrim seem happy to encourage.
It's hard to offer useful advice to someone in this predicament. All the democratic safeguards that are supposed to protect us from things like this have been coopted by the people who are causing the problem.
Selling the condo and moving would solve the poster's problem, but it would also be giving the Hasidim what they want, and I hate the idea of giving in to bullies. The atheist-troll side of me says to approach the shomrim while holding a package of bacon, or a pornographic magazine – something they're forbidden by dogma to touch or look at – but more realistically, that kind of provocation would be more likely to escalate their harassment, and we know that they're not above resorting to violence.
To read the article in its entirety, click here.