Dear Reader:
To be clear, the following theory contains no accusations. It is one of many theories. We do not suggest a guilty party, though the Wiki page at the bottom does list a student who attended the Mesivta at the same time as Chaim Weiss – just pointing to attendance, nothing more. We have a running theory. It is similar to the one posted by the Reddit user at the very bottom of this post.
One year ago Mr Weiss spoke to Mary Murphy of Pix II (see below) and stated that he wanted to put his child's soul to rest. We believe he should live to see the resolution of his son's murder. We also believe that the investigation is not being completed because someone hopes that enough time will pass that its relevance will be diminished. 
To Mr. Weiss, we are sorry for your loss. We believe that there is an answer and we further believe that someone knows it and is simply not speaking. There are a lot of bloggers and journalists working to solve this case where law enforcement has failed you. We think that FailedMessiah may have had the answer, part of the reason for the demise of that site, though we cannot substantiate that for certain.
This case, among many involving the ultra-Orthodox community remains unsolved in large part, we theorize, because the community has people bought and paid for, including law enforcement members.  
The Chaim Weiss case seems like it should have been a no-brainer. People close to the case have told us over the years that some of the former students are now addicts or committed suicide. One does not become an addict unless there are harrowing traumas leading to addiction. Suicide raises similar core analyses. We theorize that there was a trauma suffered by students at the Mesivta of Long Beach. 
We are not suggesting that this applies to all students. This is being written to help solve a crime, specifically not to defame, particularly when what happened or may have happened to the children in attendance is a travesty. That it has been covered up all these years is simply a tragedy of epic proportions.
Why would a Rabbi be completely unwilling to discuss the death (murder) of a child within his care.  Why would passing a lie detector test administered years ago be the definitive response regarding the students and the rabbis? We do not believe it was a janitor. Nor do we believe that what transpired afterwards had anything to do with Jewish customs. Once you have murdered a child, the rest of the associated Mitzvot are really irrelevant.  He was allegedly bludgeoned to death, first reported as a single wound and then as multiple cuts. We believe that the weapon at the time was a candlestick or something like it, which is the reason why candles were burned (though that may seem to be far-fetched). The kids would not have had access to a hatchet unless it was given to someone to perform an intentional and premeditated act. 
We hope law enforcement will pursue this case. It is about time that Chaim Weiss' father finds peace.
LAST MAJOR ARTICLE:
Nassau County, NY – 31 years after his son was brutally murdered in his yeshiva dormitory, the father of the slain teen has finally given his first public interview in the hopes that someone will come forward with new information.

As previously reported on VIN News (http://bit.ly/2mQD2Qt) 15 year old Chaim Weiss of Staten Island was bludgeoned to death on Halloween night 1986 in his room at the Torah High School in Long Beach.

Authorities said that Weiss's body was moved from his bed to the floor after his death and that someone had lit a yahrtzeit candle in Weiss' room, where a window had been left open despite the cold temperatures.

Weiss's father, Anton, has revealed for the first time to PIX 11 News (http://bit.ly/2mPossB) that several unusual incidents had taken place in the months leading up to his son's murder.
Chaim had called home from camp crying in July, saying that he wanted to come home, the first such call Chaim had ever made to his parents. Weiss said that just weeks later, yeshiva principal Rabbi Avrom Cooper called on two separate occasions, asking to speak to Chaim who was away in Europe visiting his grandparents. When Chaim returned home, his parents drove him to Borough Park to speak to Rabbi Cooper.
Dad of 15-year-old killed in LI dorm haunted by mysterious events leading up to 1986 murder
Please enable Javascript to watch this video
LONG BEACH, NY – Chaim Weiss was the first grandson of a Holocaust survivor; his father, Anton, was born in a displaced persons camp in Germany after World War II.

He grew up on Staten Island, but the joy he brought to his family was short-lived. In the early hours of Nov. 1, 1986 — as Halloween festivities were winding down on the streets of Long Beach, New York—15-year-old Chaim was bashed in the skull as he slept in his Torah High School dorm at 63 Beech Street.

"His soul's not resting, until we know what happened," Chaim's father told PIX11 recently in his first-ever, sit-down interview.  "My heart cries for Chaim constantly."

The Chaim Weiss case has been written about, on and off, for just over three decades — and it was featured on the national Unsolved Mysteries show in the 1990s.

But there were more questions than answers. Why did Chaim Weiss' body get moved from his bed to the floor, not long after the murder? Why was the window open?  Who lit a candle in the room?  Why was Chaim sleeping in his own room, unlike most of the other yeshiva students, who bunked up with others?

"We were told not to talk to anyone until after Shabbat (Sabbath)," said former student, Eli Kushner, who was in the dorm building the morning Chaim Weiss' body was discovered.  "The dorm counselor found him. I remember him telling everyone, 'Get out of here! We got to call the cops!'"

Rabbi Yeruchom Pitter, who was dean of the yeshiva at the time and still works for the high school, wasn't pleased when we came knocking on his office door Nov. 15.  But he told us off camera that Nassau County police spent more than a year hunkered down near the yeshiva. They'd interviewed every single person who had anything to do with Chaim Weiss: every teacher, mentor, friend, student and the most remote person he came into contact with.

"They came to my house," said former classmate Kushner. "They gave everyone lie detector tests. I passed the lie detector test."

Police never named a formal suspect, but there's been plenty of speculation about what happened to Weiss over the years.

There was talk about a janitor who quit working at the dorm not long after the murder, but he was ruled out as a suspect.

A mentally ill drifter was looked at. Members of the yeshiva community did not want to consider that it could have been a student or staff member behind a heinous crime.

Rabbi Pitter's wife, Reena, told PIX11, "In our family, we did think maybe it was one of the janitors."

Chaim's father remains troubled that his son was assigned to his own room on the third floor of the dorm, while most students were paired in groups of two or three in bedrooms.

"They must have known exactly where this kid was because you had to go through a lot of different rooms to find him," Eli Kushner said of the unknown killer or killers. "And you had to pass a lot of kids to get to this kid."

"This wasn't some Halloween prank," Kushner insisted. "This was somebody trying to get back at the family or get back at the kid."

There was no back way to get to Chaim Weiss' room on the third floor.

"One way in.  One way out," Kushner said.

Anton Weiss, from Staten Island, talked in-depth about events that happened before his son's murder that have long tormented him.

The father told PIX11 his son had called from the school's upstate summer camp in July 1986.

"He called me up crying in a strong way that he wants to come home," Anton Weiss recalled.  "I was away on vacation and I told him, 'Wait until I come back.'"

Weiss said his son never complained of a problem at camp in previous years. When he returned to New York from his Florida trip, he visited his son and "everything seemed to be ok."

In August 1986, Weiss said he sent Chaim to visit his grandparents in Europe — and that's when, Anton Weiss claims, the yeshiva's principal, Rabbi Avrom Cooper, called him at home.

"He said 'When's he coming home?  I said, 'A week or two,'" Anton Weiss told PIX11.

"And then he called me again, and I said, 'We're still waiting. He's coming back next week.'"

Anton Weiss claims Rabbi Cooper seemed eager to talk to Chaim, so the parents made arrangements to drive their son to Cooper's home in Borough Park, Brooklyn for a meeting.

"He told us to send Chaim in, to wait outside," Weiss recalled

The teen's father said Chaim spent about 10 minutes in the house, but when the teen returned to the car, Chaim didn't want to talk about the conversation.

Anton Weiss said he asked his son what the principal and Chaim discussed. When Chaim was reluctant to speak about it, the father didn't press him on it.

He now wishes he had pressed more.

"I should have," the father said.

PIX11 found the former principal, Rabbi Avrom Cooper,  living in Lakewood, New Jersey, where he's retired.

When we told him Anton Weiss has been looking for answers for 31 years, Rabbi Cooper replied, "I have no answers."

When we asked Rabbi Cooper about Chaim Weiss' call to his father from camp in July 1986, he waved his hand and said, "I'm not interested in speaking."
When we persisted, Cooper said more emphatically, "I said I don't know anything about it."

When we started to ask about the parents' claim that they drove Chaim to Brooklyn for a meeting between principal and student, six to eight weeks before the murder, Cooper refused to respond to  our questions and walked into his house, closing the front door.

Weiss' father remains upset about an encounter he said he had with Rabbi Cooper in court when the Weiss family sued the school for failing to safeguard Chaim.

He told PIX11 Rabbi Cooper suggested Weiss reflect on any bad deeds he may have done as a way of considering why bad fortune may have come to the Weiss family.

"It shocks me to today," Weiss said.  "What do you think? I stole something,  I did something, I killed something?!"

Chaim's father still remembered how Nassau County detectives found him at a bar mitzvah in Belle Harbor, Queens, hours after Chaim's body was discovered at the yeshiva.

He's hoping former students — who'd now be in their late 40s — might come forward with new information.  Nassau County Police have a hotline number for anyone with tips on the case: 1-800-244-TIPS.

"I think it's time for people to come forward and say something," Weiss told PIX11.

The still-grieving father can't shake the memory of his first-born child.

"He was always full of jokes, a great sense of humor," Weiss said.  "I was proud to have him as a son.  I felt like he was a gift to us."
ADDITIONAL READING AND VIDEOS:
CASE DETAILS
Orthodox Jews trace their roots back 5,000 years to the time of Moses and they live according to strict codes that have remained unchanged for centuries. To maintain their traditions, many communities have established yeshivas, which are schools that emphasize the principles of Orthodox Judaism.
On November 1, 1986, Don Daly, a veteran Nassau County police detective, was dispatched to a yeshiva in Long Beach, New York, to investigate the murder of one of its students. The victim was 16 year-old Chaim Weiss. A single blow to his skull with a sharp object had severed his spinal column.
Investigators found no murder weapon. There was no evidence of a robbery and no signs of a struggle. Detective Daly realized that this would be unlike any other homicide investigation in his 25-year career:
"Initially, we were dealing with a Saturday, which is the Sabbath. When we arrived at the scene sometime around 8:00 in the morning, it was difficult to talk to anybody at that particular time because the people we're dealing with, being Orthodox Jews, they're not able to write. We couldn't take statements from anybody. We got the impression a lot of the students at that time were afraid to talk to us or were little shy."
As he investigated the scene, Daly thought the killer might have been familiar with the yeshiva and the customs of Orthodox Judaism. It appeared that Chaim had been killed while he was sleeping. His body was then moved, first from the bed to the floor, and later, to another spot two feet away. According to Det. Daly, Chaim's window was left wide open on the chilly October night:
"It would be customary in the religion to open a window or a door to let the spirit out. It would also be customary for the body to be taken off the bed because the body should be at the lowest point and the coolest point. The coolest point being the floor, compared to the bed."
Another ritual would point to a third puzzling clue. One of the rabbis asked to leave a memorial candle in the room, to burn for seven days. The crime scene was then sealed. However, two days later, another candle mysteriously appeared. Det. Daly said that no one in the school ever admitted to having placed it in the room:
"If they lit that candle as a gesture of sympathy or love for Chaim, why wouldn't they come forward and say that? That's certainly a good thing to do. Nobody came forward with that."
Detective Daly set about piecing together the final hours of Chaim Weiss' life. He learned that Chaim was an outgoing, likable teenager who was at the top of his class. He had been attending the yeshiva in Long Beach for 2 1/2 years. On the day he was killed, Chaim left class with his friends to attend services. Afterwards, he returned to the dormitory. Hours later, Det. Daly said, two classmates saw Chaim reading in the hallway:
"Many of the students do that. Because of their religion, they don't put lights on and off at that time, on the Sabbath. It was dark, so the lights are left on in the main hallway. The students sit out in the hallway and read."
Police think the killer probably knew the layout of the dormitory and was probably aware that Chaim was one of only two students without a roommate.  Det. Daly:
"We did have one student who felt that he heard his door open up sometime during the night and then close again, but he assumed it was his roommate. There are a lot of questions that we haven't been able to answer. We really never got any leads in this case. Nothing from the outside, which is unusual."
A few days after the murder, Detective Daly called a meeting with the students, teachers, and rabbis. But almost every question he asked was answered by silence.
"We learned at one point that, in their particular orthodox religion, unless you have proof or another witness, mere suspicion alone is not enough to go and say anything or to accuse somebody."
Police eventually polygraphed 40 students and several of the school's teachers and rabbis. No suspects or motives were revealed. Who killed Chaim, and why, remains a mystery.
Anton Weiss is Chiam's father:
"The not knowing makes it much more difficult for me to cope. Certain things I accept. My son's dead. But the murderer is still loose. All these unanswered questions make me feel very, very uneasy."
Why would anyone brutally murder a 16-year-old boy who had no known enemies?  Police have uncovered only one significant clue — a jogger stated that he saw a young man a few blocks from the school on the morning Chaim's body was found.  All attempts to identify the student have been unsuccessful.
http://unsolvedmysteries.wikia.com/wiki/Chaim_Weiss
---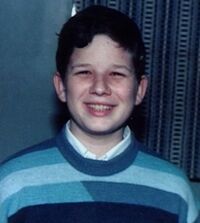 Real Name: Chaim Weiss
Nicknames: No Known Nicknames
Location: Long Beach, New York
Date: November 1, 1986
Details: On the morning of November 1, 1986, a 15-year-old Jewish boy named Chaim Weiss was found murdered in his school dormitory in Long Beach, New York. Chaim was an Orthodox Jew who lived in the dormitory of his yeshiva, a school that emphasizes the religious and ethical principles of Orthodox Judaism.
Detective Don Daly was called to the murder scene. He learned that Chaim had died from being struck violently in the back of his head with an unknown object. There appeared to be no evidence of robbery nor signs of a struggle. From the beginning, Daly knew that this investigation would be different.
Because it was Saturday, the Sabbath, Daly was unable to question many of the students and teachers at the school. As the days went on, many were still reluctant to talk to him or the other investigators.
In Chaim's room, several clues were found to suggest that the killer was familiar with the yeshiva and the customs of Orthodox Judaism. It appeared that Chaim had been killed while he slept. His body was then moved twice, from the bed to the floor, and then from one spot on the floor to another. In Orthodox customs, it was necessary for the body to be taken off the bed and onto the floor, so that it is at its lowest and coolest point.
His window was left open, even though it was cold outside. Orthodox traditions requires a door or window to be open in the room of a deceased person, in order to let the spirit out. After the murder, a memorial candle was placed in the room and it was sealed. Two days later, however, another candle mysteriously appeared. No one admitted to placing the candle in the room.
Detective Daly tried to piece together the last night of Chaim's life. He learned that Chaim was a outgoing student who did well in class. He had attended the yeshiva for the past two years. On the night of October 31, he left class with his friends to attend services. Afterwards, he returned to the dormitory. Several hours later, two of his classmates saw him reading in the hallway. This was customary, as students did not leave lights on in their room on the Sabbath. He was last seen alive at 1 am on November 1.
Although no students reported hearing anything suspicious around the time of the murder, one student did remember his door being quickly opened and closed at some point. At the time, he assumed that it was just his roommate.
A few days after the murder, Daly called a meeting with the students and some of the rabbis, asking for any information about the case. However, nobody offered any information. Daly learned that their religion prevented them from coming forward unless they had evidence or another witness to back up their claims.
Police eventually polygraphed forty students and several of the teachers and rabbis. However, no useful information was found. Detective Daly and Chaim's family are still hoping that someone will now come forward. Sadly, Chaim's murder has never been solved.
Suspects: None known; evidence found at the scene suggests that Chaim's killer was familiar with Orthodox traditions. It is believed that the killer also knew the layout of the dormitory. The killer was probably aware that Chaim was one of only two students without a roommate.
Police are looking for information about a yeshiva student who was apparently seen on a boardwalk at 7 am on the morning of Chaim's murder. A jogger noticed the student and felt that he was out of place there. The student was never identified, and it is unknown if he was involved in the murder.
Extra Notes: This segment originally aired on the May 6, 1992 episode of Unsolved Mysteries.
Results: Unsolved. Investigators looked into a former janitor at the school, along with a mentally ill man who attacked senior citizens in their homes near the yeshiva in 1986. However, both men were ruled out. In 2013, Chaim's case was re-opened by investigators. They interviewed more than one-hundred former students, but reportedly made little progress in the investigation. In 2015, they announced that they believe a student or faculty member was responsible for his murder. However, they have yet to identify any suspects.
In November of 2017, Chaim's father Anton was interviewed by a news station and recalled several bizarre incidents prior to his son's murder. In July of 1986, Chaim had called him from summer camp. He was crying and saying that he wanted to come home. According to Anton, this was very out of character for him. In August, Chaim went to visit his grandparents in Europe. During this time, the yeshiva's principal, Rabbi Avrom Cooper, called Anton several times, asking when Chaim would be back home. He felt that this was suspicious. On another occasion, Cooper had Anton bring Chaim to his home to talk with him alone. After meeting for about ten minutes, Chaim returned to his father. However, he was reluctant to talk about the meeting.
Anton suspects that Rabbi Cooper may have information about Chaim's murder. Some have speculated that he may have been involved. However, no one has been charged in the case.